Food Not Bombs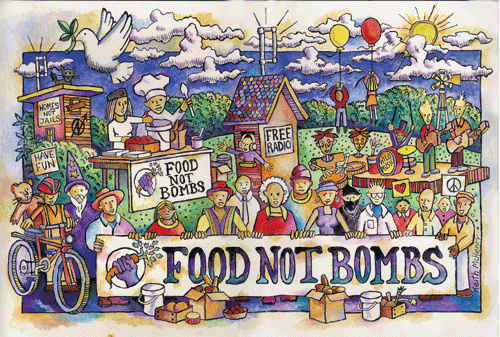 Food Not Bombs is one of the fastest growing revolutionary movements and is gaining momentum throughout the world. There are hundreds of autonomous chapters sharing free vegetarian food with hungry people and protesting war and poverty. Food Not Bombs is not a charity. This energetic grassroots movement is active throughout the Americas, Europe, Africa, the Middle East, Asia and Australia. Food Not Bombs is organizing for peace and an end to the occupations of Iraq, Afghanistan and Palestine. For nearly 30 years the movement has worked to end hunger and has supported actions to stop the globalization of the economy, restrictions to the movements of people, end exploitation and the destruction of the earth. Further information on foodnotbombs.net.
Birt:
Feb. 1, 2009
Tilvitnun:
Guðrún Arndís Tryggvadóttir "Matur en ekki sprengjur", Náttúran.is: Feb. 1, 2009 URL: http://natturan.is/d/2009/02/01/matur-en-ekki-sprengjur/ [Skoðað:Oct. 3, 2023]
Efni má nota eða vitna í samkvæmt almennum venjum sé heimilda getið með slóð eða fullri tilvitnun hér að ofan.